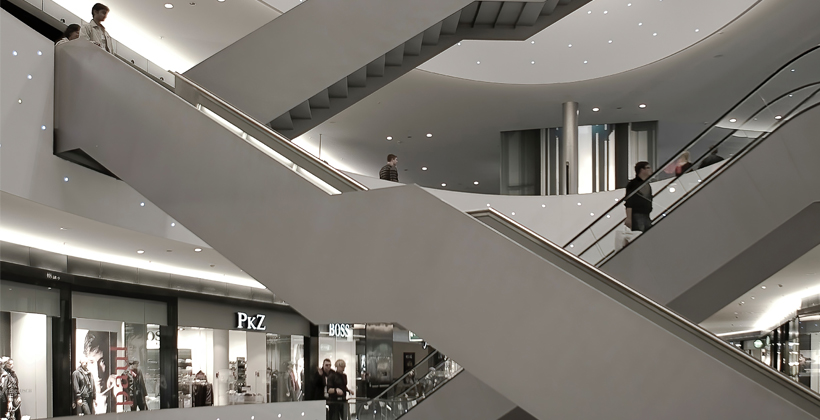 With half of the consumers still preferring to visit physical store locations in person, and especially the Middle East consumers being positively predisposed to mall visitations regardless of COVID-19, how is the future of malls in the region and globally expected to be?
Today's consumers are looking for experiential, omnichannel, and frictionless shopping, giving no further space to bad retail. In the Middle East, there are growing populations that in the next 10 or so years will hit their peak earning years, leading to an increase in demand. At the same time, the pandemic caused numerous store closures this year. This excess supply of more space into the markets, in combination with consumer behavior and channel shifts to e-commerce, is placing a particular burden on the economics of shopping malls and their development according to Gaith Shocair, founder and principal of Theorema partners.
During the 7th RLC MENA Virtual Summit, Mr. Shocair had the opportunity to discuss the pandemic's implications in the future of malls along with Timothy Earnest, Group Director of Al Futtaim Malls, Alistair Gosling, CEO Extreme, and Robert Welanetz, independent non-executive director of LendLease.
Shifting trends
Sharing his thoughts on existing global trends and potential retail structural shifts, Bob Welanetz discussed 3 key points; firstly, there is no doubt that the COVID period has been an accelerator to existing trends within the industry. The pandemic has brought a multi-generational change as there's a broad adaptation to the ease of e-commerce which will impact what is utilized in physical space and in a virtual channel.
Welanetz also highlighted that the industry has realized that there are ceilings or caps on how much a market can absorb from a retail physical space inventory point of view. The retail real estate industry has been the darling investment instrument in real estate for a long time, but it has slipped based on factors affecting the commercial viability of shopping centers in certain markets, as the shifts go on and limits are reached.
He continues by saying that optimizing performance is a requirement, and the factors that impact performance are changing. However, quality occupants, relevant content, the need for non-essential goods and experience, along with the social role that a shopping center plays are all increasingly important factors.
Elevating experience and convenience are critical aspects and technology supporting customer experience is essential in today's world. Data accumulation and its use to optimize consumption and consumer loyalty are key elements in the current context. In parallel, innovative operators that are open to considering a full range of non-retail uses in a retail location will benefit.
The operator point of view
 For Timothy Earnest, it's all about being a good, strong mall. As he characteristically said, "this year we were all caught up with things that we never really thought through and as a result, the question is what did we learn, what are we doing about it; that's where you go back to your consumers and your impact to the tenants".
He added that tenants have become much more sophisticated in negotiations and conversations as to how to protect their downside, leading to a conversation that is more about how we partner together in the future and not just being the landlord and the tenant. "As operators, we initiated a major relief to our tenants from day one, as we understood what was happening and we looked at it very practically. We wanted to look forward to and talk about new deals. We think that the business to be a good mall is in a rebirth stage; in other words, there is a lot that needs to change and adapt, a lot of it is with respect to the shopper and what the shoppers expect today as they still love malls.
One of the major changes we see is that real estate used to be a deal with leases and the building. Nowadays, there is more creativity and mall operators are seen more like executive producers than landlords. This was one of the lessons we learned".

Nowadays, there is more creativity and mall operators are seen more like executive producers than landlords.

Live the experience
Alistair Gosling, Extreme's CEO mentioned, "there is an unbelievable flux in experience, with a massive participation increase over the last 3 years in the fastest-growing segment in terms of tourism and travel". This is the reason why Extreme significantly accelerated its investment towards indoor and outdoor experiences in the last 12 months. Crisis and opportunity are two very interesting things here, and ultimately, we face both a crisis and an opportunity".
He continued by saying that the future of retail is not about shopping; it's about transforming to thrive and the new generation of consumers is looking for experiences, therefore retailers, operators, and brands must adapt. They need dynamic programming and to equip themselves to pivot as this is a massive pivoting moment overall.
Consuming after Covid-19
What will be the key changes that the pandemic will bring?
Good malls will prevail, good locations will dictate the possibility of outcome, but it isn't just the hardware, it is the software that stands behind it, according to Robert Welanetz.  "The entrepreneurial instincts, deeply embedded in the industry will rise up again, with a lot of interesting things going on. Positive reaction to some of the attempts to adapt, the content that will gain traction, and you will see a continued shift in business modeling and lease structures".
For Timothy Earnest, the future will have fewer new developments, constant investments by the strong properties to create something new, and more strategic alliances with the tenants. More and more landlords will be getting involved while the experience part will play a strategic role. 
Alistair Gosling believes that digital will keep prevailing while going to a mall has a different meaning as nowadays it includes a range of activities and experiences. This dynamic shift will also happen in terms of space. Mall owners will understand that they are not against the high street anymore, they are against theme parks and areas of activity for optimum health.