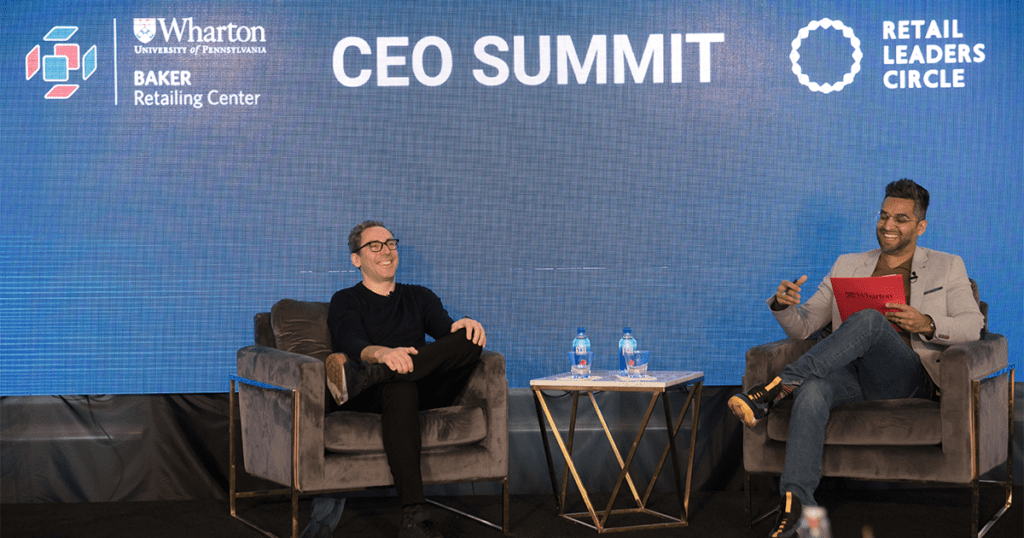 In the 2022 CEO Summit that took place in New York city, Neil Blumenthal, co-CEO and co-founder, Warby Parker, spoke with Samir Nurmohamed, Assistant Professor of Management, The Wharton School, about environmental, social, and governance (ESG) and how companies embed this into their practices.
Neil Blumenthal commenced with the notion that ESG is the framework with which we talk about mission, about impact. That is what really matters, especially to employees. "You have to show the positive influence you want to make as a company. Just like with any other strategy, when it comes to how you want to run it, you think about what you are good at, what your core strengths and skill sets are."
Since Warby Parker designs eyewear and there are many people that need glasses, "we're in a unique position to help solve this intractable problem. We're in a position to provide glasses not just to the people who are our customers and paying for them, but the people who can't afford them or don't have access to them", says Neil Blumenthal.
When a company is called to track and measure the impact they made, they can use programs and charts, but human impact is far more meaningful. Warby Parker donated 10 million pairs of glasses to people in need, such as people in refugee camps, in rural India and rural Bangladesh and gave free eye screenings and tests to schools in New York city. Those actions can be measured by human impact, by the people that felt their life change.
He also pointed out that all glasses were designed by the designers of Warby Parker, so they are beautiful and well crafted; people, and especially kids, will want to wear them. That is the purpose, to actually provide learning opportunities. The point is to do something that has true impact, not to do it just for the sake of saying you did it.

You have to be mission driven and you have to be thinking about ESG from inception.


You have to be mission driven and you have to be thinking about ESG from inception.

He went on to discuss the importance of thinking about what is best for your employees, looking within, looking at the overall mission. With the rise of social media, people have a voice, and express their concerns. For example, with the murder of George Floyd, many companies made statements about the injustice of this event, but people really wanted to see action, "put your money where your mouth is".

That is why Warby Parker teamed up with optometry schools, to help out black students, to give them scholarships, to make sure they become part of the workforce.
Lastly, he talked about a fund that helps young entrepreneurs. "We think that as CEOs, it keeps us really fresh to see emerging business models, emerging technologies. And we try and focus on, hey, who's going to be a world class entrepreneur and build a world class organization? And we think in order to do that, you have to be mission driven and you have to be thinking about ESG from inception". That is truly why the fund exists; to provide clear community transformation.